Venture North Bay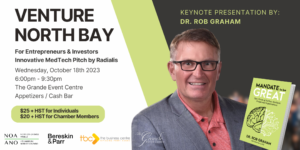 A pitch-themed event uniting the best and brightest entrepreneurs from Northern Ontario.
We are thrilled to invite you to Venture North Bay 2023, an entrepreneurial event organized by Northern Ontario Angels. This event will take place on Wednesday, October 18th starting 6pm at The Grande Event Centre.
Venture North Bay will feature investor and entrepreneur success stories, a pitch by Michael Waterston, CEO of Radialis, as well as a keynote presentation entitled '4-Steps To Becoming More Resilient in Business and In Life' by Dr. Rob Graham, author of Mandate to be Great: The 5 Traits of Techno-Resilient People and Organizations. The event will also have a cash bar, appetizers and opportunities where attendees can meet with entrepreneurs, learn about their products and services, and network with like-minded individuals.
We invite esteemed investors and venture capitalists from across the region to participate in this event. By engaging with these visionary entrepreneurs, investors will have a unique chance to discover new opportunities and invest in projects that align with their interests and values.
Admission for Venture North Bay is priced at $25.00 + Tax for individual tickets, and $20.00 + Tax for Chamber Members. If you are a Chamber Member, please contact us for a promo code to receive your discount.
The Grande Event Centre: 300 Wyld St, North Bay, ON P1B 8K3
Questions? Email [email protected]