Futurpreneur Online Info Session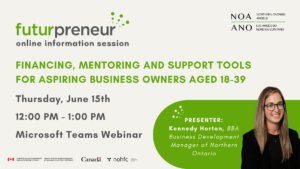 Are you an aspiring business owner aged 18-39? Join us for an engaging and informative online workshop hosted by Northern Ontario Angels. Don't miss this opportunity to learn from the expertise of Futurpreneur's Kennedy Horton!
In this workshop, Kennedy Horton, Business Development Manager of Northern Ontario, will be sharing valuable insights and practical guidance on financing, mentoring, and support tools specifically tailored to entrepreneurs like yourself. Whether you have a brilliant business idea or are already in the early stages of starting your own venture, this session will equip you with the necessary knowledge and resources to propel your entrepreneurial journey forward.
The workshop will take place virtually on Thursday, June 15th from 12pm to 1pm on Microsoft Teams.
By attending this workshop, you will:
Gain a deeper understanding of financing options available to young entrepreneurs.
Discover the benefits of mentorship and how it can accelerate your business growth.
Learn about support tools and resources that can assist you in overcoming challenges and achieving success.
Connect with like-minded individuals and expand your professional network.
Don't miss out on this opportunity to empower yourself with the knowledge and support you need to turn your business dreams into a reality! Register now for this exciting online workshop hosted by Northern Ontario Angels and presented by Kennedy Horton from Futurpreneur. We look forward to seeing you on June 15th!
Register: NOA Futurpreneur Online Info Session | Thursday, June 15th 12pm – 1pm