Investor Ready Program Close Event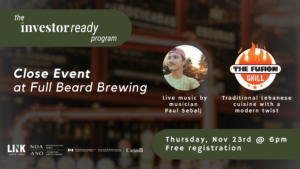 Join us on November 23rd in Timmins with Link North!
The Investor Ready Close event will be a celebration of the participants' journey through the program. It will also serve as an opportunity for entrepreneurs to showcase their progress and network. Open to the public!
Event Date: Thursday November 23rd at 6PM
Event Venue: Full Beard Brewing Co.
Live Music by: Paul Sebalj
Food from: The Fusion Grill
Registration is free! https://theinvestorreadyprogram.eventbrite.ca
#TheInvestorReadyProgram #Entrepreneurship #networking