Investor Ready Program Launch Event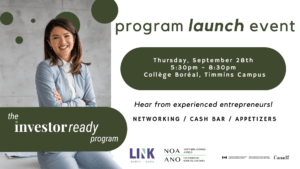 Join us on September 28th from 5:30pm to 8:30pm at Collège Boréal for an evening of entrepreneurial excellence at the launch of the Investor Ready Program. Hosted in collaboration by Link North with the Northern Ontario Angels, this event promises to be a showcase of innovation, networking, and celebration of our second year of the Investor Ready Program.
🗓️ Date: Thursday September 28th, 5:30pm – 8:30pm
📍 Venue: Collège Boréal, 395 Theriault Blvd, Timmins, ON P4N 5B6🎉
Event Highlights:
✨ Networking Opportunities: Mingle and connect with a diverse community of entrepreneurs, investors, and industry experts. Forge invaluable connections that can steer your business towards success.
🍽️ Culinary Delights: Savor delectable appetizers from Radical Gardens while enjoying the convenience of a cash bar from Tap It! Services offering a wide range of beverages.
🚀 Launch of Investor Ready Program: Developed collaboratively by Link North and the Northern Ontario Angels, this program is designed to equip you with the essential skills needed to confidently pitch to investors and secure vital capital.
💡 Program Highlights:
🌟 Mentorship and Guidance: Engage in one-on-one interactions with seasoned mentors who will guide you through the intricate process of becoming investment ready.
📚 Virtual and In-person Funding Panels: Gain insights from funding experts and successful entrepreneurs through virtual and in-person sessions that shed light on the dynamics of securing capital.
🤝 Peer Collaboration: Join forces with a community of like-minded individuals, fostering collaboration and knowledge-sharing that extends beyond the program's duration.
🌐 Lifelong Skills for Opportunities: Equip yourself with essential skills, strategies, and confidence to seize new opportunities, ensuring your entrepreneurial journey is marked by continuous growth.
🎊 Be Part of Something Extraordinary: This event marks the beginning of an exciting chapter in your entrepreneurial journey. Whether you're an aspiring entrepreneur or a seasoned business owner, the Investor Ready Program is your gateway to navigating the world of investments with finesse.
Secure your spot now and join us for an unforgettable evening on September 28th from 5:30pm to 8:30pm.
This event is free to attend. Pre-registration is required.